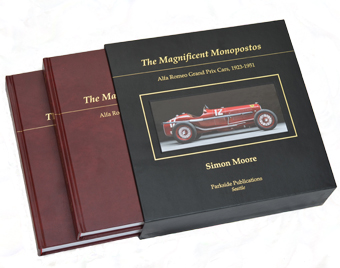 The Magnificent
Monopostos
By Simon Moore

Edited and designed by
Malcolm S. Harris
ISBN No: 978-0-9820774-2-9

To order a book or for
more information,
e-mail Simon directly at:




Motoring "Book of the Year 2015" by the Royal Automotive Club >> Read More
"Publication of the Year 2015" by the Int'l Historic Motoring Awards Committee >> Read More

The third book in Simon Moore's Alfa Romeo trilogy is finally here! It presents the glorious history of all of Alfa's Grand Prix racing cars from 1923 to 1951.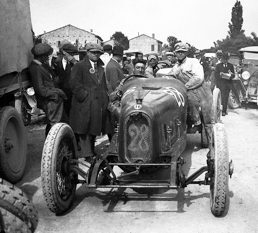 Enzo Ferrari after winning the 1923
Circuito del Savio in an RLTF – the day he
was presented with the "Prancing Horse."
Simon started this new book with the intention of covering just the single-seaters from 1931 to 1940. However, he discovered so many previously unpublished photographs from the 1923 to 1930 era that he decided to cover those years as well. The publisher then persuaded him to expand the book further to cover the exploits of the Tipo 158/9 up until Alfa's retirement from Grand Prix racing in 1951. The prewar racing history of the 158 cars in the voiturette category is covered in detail. The postwar period is covered with a huge number of previously unpublished photographs and technical notes rather than covering each race in detail which has already been covered in several books. Simon was, however, given access to the Alfa Corse records which give chassis and engine number details by race and they are included in tables.
As usual, Simon has used his phenomenal detective skills to trace the history of the individual cars, including those that were sold to private owners by the factory and Scuderia Ferrari. Each car is given a chapter of its own. The cars traveled all over the world, including the USA (three ran at Indianapolis), Brazil, Argentina, Australia and New Zealand. Some retained their original engines, drive train and suspension, but many were given alternative motive power – one even acquired a Ford V8 for drag racing in California!
Louis Chiron negotiating Tabac corner at the
1934 Monaco Grand Prix.

Sadly, Michel Poberejsky (who raced as "Mike Sparken") died before the book was finished. However, he recorded for Simon the complete story of how he managed to acquire, restore and run the only Tipo 158/9 that has ever left the factory.
The extensive content of this book required 836 pages split into two volumes. The first covers the cars from the "cart sprung" era, beginning in 1923 and ending with the Tipo B and that twin engine monster, the Bimo­tore. The second volume concentrates on the independently-sprung cars of the later 1930s.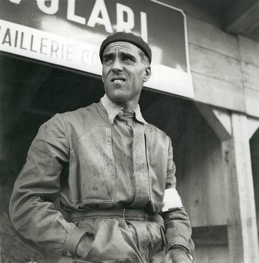 Tazio Nuvolari was the most
outstanding Alfa Romeo
driver in the 1930s.

The historic photos in the book are interesting on two distinct levels. First, by tracing the history of the racing efforts of Alfa and its competitors, they graphically illustrate the evolution of the racing automobile. However, they also serve a second purpose: they provide a very evocative glimpse into the glamour, style, informality and ambiance of the early European Grand Prix racing scene, especially during the 1930s. Those gatherings became the highlight of the summer social season in many cities. The details in the background of many photos thus become as interesting as the automobiles in the foreground. The large crowds, the beautiful people, the stylish clothing, the art deco imagery of the 1930s – all present an exciting backdrop for the exotic machinery and daring drivers who achieved Alfa's Grand Prix conquests.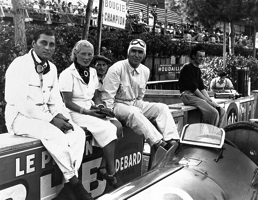 Successful Alfa private entrant Hans Ruesch
sitting on the Monaco pit wall with a lady
and Nino Farina.

Simon has also included a section on some cars that never raced, like the late-1930s Ricart designs and a fascinating chapter on the racing boats powered by Grand Prix Alfa Romeo engines. Naturally there are sections on numbers and rumours of missing cars as well as technical notes, which include dyno test sheets for the original Tipo 158 and the complex sixteen cylinder cars that finished 2nd and 4th in the 1938 Italian Grand Prix.

Like all books from Parkside, The Magnificent Monopostos is produced to the highest standards, using fine matte paper and bonded leather binding. All of the 1140 photographs are spot-varnished. All black and white photos are reproduced in duotone and some period images are presented in their original sepia format. Some rare prewar colour photos are included, as well as contemporary colour photos of all the cars surviving today.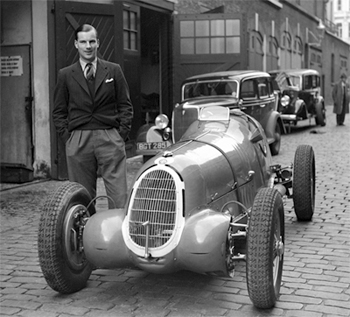 Richard Seaman with Ruesch's Tipo C
(chassis number 50013) in his London mews.

Only just over 1000 copies have been printed, and well over half have already been sold so order your copy immediately to ensure that you own one. The book is being distributed from England with postpaid prices of £350 in the EU, £375 for USA, Canada and other European countries and £400 elsewhere.
To order a book or for more
information, email Simon directly at:


OCTANE Book of the Month, October 2015
Reviewed by Richard Heseltine
and Mark Dixon

"This, the third masterwork in Moore's Alfa Romeo trilogy, is his best yet. Having set out to research and write about the firm's single-seaters made from 1931 to 1940, he subsequently unearthed a wealth of fresh images dating back to 1923 and so decided to broaden his remit. He was subsequently persuaded to stretch things even further to cover the years Leading to Alfa's withdrawal from Grand Prix racing in 1951.

The result is a massive 836-page, twin-volume work complete with slipcase. Anyone familiar with Moore's previous books will recognise his attention to detail and his near-forensic understanding of the subject matter. Here, he has taken his Ahab-like obsession to new heights.

Moore gained access to Alfa Corse records and uncovered chassis details and engine numbers, from which he went on to trace each car. Many of them had disappeared to South America or the Antipodes once their frontline careers in Europe were over, and some had travelled to the USA — it's not widely remembered that three cars raced at Indianapolis.

Each car gets its own chapter, and the author should be congratulated for untangling the not-exactly-linear narratives for certain chassis, many of which were rebodied, chopped and reconfigured or received engine transplants. Then there's the question of what happened to some of the GP engines. We enjoyed reading about the Alfa-powered Multi Union special; where the engine came from and how constructor Chris Staniland came to acquire it. And let's not forget the many Alfa-engined hydroplanes.

The lion's share of the images have never been published before. Some were freshly printed from glass-plate negatives and they are beautifully reproduced on high-grade art paper. Quite aside from the many shots of on-track action, we were very taken with the more candid of the pit shots — and photos of certain chassis after they fell down the food chain. The pictures of the ex-Chico Landi 308 Grand Prix weapon after it was turned into a road car in the mid-50s are priceless: imagine a chopped and channelled '55 Chevy convertible and you would be close...

As is so often the way with these things, Moore's detective work uncovered a few 'discrepancies' in certain cars' histories. He doesn't shy away from saying so, either.

It's limited to only 1000 copies, so we expect this remarkable work to sell out, and quickly. Largely funded by Moore himself, the book has an asking price that seems positively cheap when you consider just how much you get for your money. It's genuinely fabulous and a surefire candidate for book of the decade."
---
Here are quotes from some of the early book reviews already published in the automotive press:
Mick Walsh, Editor in Chief of
Classic & SportsCar:
"Thirty years ago, Simon Moore and Seattle-based publisher Malcolm Harris released an award-winning review of the Alfa 8C-2.9 sports car, and now their promised trilogy is complete with Moore's exhaustive study of Alfa's Grand Prix designs…. The beautifully-printed book is split into two volumes, the first covering everything from P1 to Bimotore, while the companion volume reviews the Tipo C to Alfetta.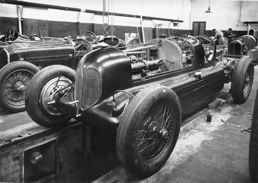 The Scuderia Ferrari workshop in Modena with the
two bimotore being worked on.

Moore has visited surviving cars around the world, tracked down former owners and dug up an amazing selection of photos. As with previous volumes the books feature individual, often complex, chassis histories including the saga of the Multi Union. Printed in full colour with a special glaze finish, the sensitive cropping and enhanced detail vividly brings each era to life. The books are exclusive but the commitment of time and investment is easy to appreciate. A truly remarkable work."
"Book of the Month"

Jonathan Rishton, Editor of The Automobile:
"Once in a while, a book comes along that you just know will have been worth the wait. Thirty years in the making, Simon Moore's planned Alfa Romeo trilogy is now complete with the publication of this two-volume masterwork covering the Milanese firm's Grand Prix cars made between 1923 and 1951, and thereby confirming his place as the pre-eminent prewar Alfa Romeo historian.
Anyone who has ever met Simon will know that his infectious enthusiasm is tempered by a relentless thirst for detail – and the truth. This focus means that he has gone to extraordinary lengths to dig out fresh information, checking it and double-checking it, driving and flying thousands of miles all over the world to knock on the doors of owners, enthusiasts and historians in his quest for the full story. Those familiar with his previous books will be pleased to learn that in all respects this new work lives up to the standards of its predecessors…
Juan Manuel Fangio speaks with a race official at  
the 1951 British Grand Prix at Silverstone.

One of the particular pleasures of a Simon Moore book is the care taken over illustrations. His unparalleled international network of contacts often gains him access to archives otherwise unavailable, and when he obtains fresh photographs he makes sure to use them to their best advantage: printed at large size, and uncropped where possible so that the cars are placed more firmly in context. In consequence, the book takes on an extra dimension, that of social history; as fashion, prosperity and political mores change, so too do the backgrounds of the photographs.
Simon has admirably funded the production costs himself. Despite the high selling price, the book represents excellent value for money and, when it has sold out (which will inevitably happen – half the run has already been sold), will become even more expensive to acquire."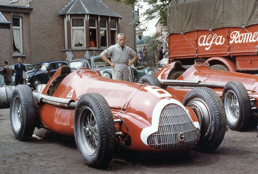 Alfettas at Spa in 1951.

Gordon Cruickshank,
Deputy Editor of Motor Sport:
"Moore's previous books on the 2.9 and 2.3 Alfa Romeos have rightly become standard works. Now he concludes the trilogy with a book as magnificent as its title, which confirms his position as the prime Alfa historian.
If you are ever going to want information on these cars you'll need to consult this, and judging by the previous works, it's a case of buy now, as the 1000 print run is selling fast. Why? Because you won't find this depth of detail and wealth of illustration anywhere else.
[Moore's] research efforts have been unending, extracting clues from factory drawings to illuminate chronologies…. all backed up by many magnificent photos and drawings with detailed informative captions…and the presentation is excellent.
Packed with stories about the players as well as facts, this is a deeply impressive achievement."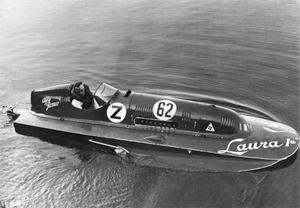 Mario Verga aboard Laura I, one of the magnificent
racing boats powered by Alfa Romeo engines.
.
Doug Nye, world-renowned author and columnist, writing in Motor Sport:
"…it was a London High Court judge who observed that some motoring marques are particularly well served by their historians. Alfa Romeo has certainly been very well served indeed by the enduringly enthusiastic Simon Moore, and his latest two-volume tome is not only an absorbing and informative joy, but also beautifully produced – which is very unusual amongst specialist books self-published by an enthusiast author .…something I particularly like about Simon's treatise is the inclusion of the Alfa GP-engined powerboats set loose by a small coterie of speed-happy loonies…I promise it will not disappoint you."