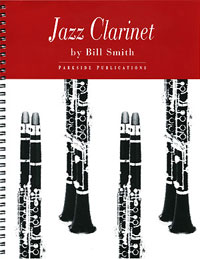 Jazz Clarinet
by Bill Smith
Emeritus Professor of Music,
University of Washington
Member of the Dave Brubeck Quartet

Edited and designed by
Malcolm S. Harris
ISBN No. 0-9617266-0-2

$29.95 postpaid for USA and Canada
$36.95 postpaid for other countries
"Finally! A serious book for aspiring jazz clarinetists! Bill covers it all, from A to Z, starting with the basics of jazz harmony and following through with some of his unique improvisation techniques. A delightful combination of text and music, complete with many exciting duets and trios. This book is a must for the complete clarinetist!"
— Eddie Daniels
"I whole-heartedly recommend Jazz Clarinet by Bill Smith! It's direct, with all the essential tools, and without the complicated "obfuscation" of which so many writers are guilty. I especially enjoyed the chapters on multiphonics and the use of electronic equipment. Bill is a master of these devices and never sacrifices 'musical integrity' by using them."
— Buddy DeFranco
The clarinet was one of the first instruments upon which jazz was played and was perhaps the leading solo instrument of the Swing period. But from the late 1940's until just a few years ago, the clarinet was a voice rarely heard in contemporary jazz groups. Happily, that situation is changing rapidly. New clarinetists appear on the jazz scene regularly, as the clarinet enjoys something of a renaissance in the world of jazz.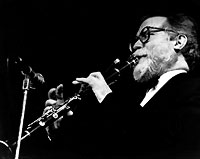 Bill Smith is unquestionably one of the greatest clarinetists of all time. He has successfully bridged the gap between the classical and the jazz worlds. As William O. Smith, he has established himself as one of the world's finest contemporary composers. He has been a Professor of Music at the University of Washington since 1966. Throughout his academic career. Bill has always found time to continue his jazz performances, with such luminaries as Shelley Manne, Branford Marsalis, Jim Hall, Mel Lewis, Buddy Collette, Buddy DeFranco, Paul Desmond, Red Norvo, Red Mitchell, Kenny Clarke and Barney Kessell. During the 1980s and 1990s, he renewed his old friendship with Dave Brubeck, performing all over the world as a featured soloist with the famous Dave Brubeck Quartet. Bill has also been a pioneer in electronic music and his jazz performances consistently demonstrate his novel ideas for the electronic amplification and alteration of sound. He has also been the leading researcher into the art of multiphonics on the clarinet and consistently incorporates these advanced concepts into his compositions and performances.
Drawing upon these strong academic and performance experiences. Bill Smith has written Jazz Clarinet, a masterful "how-to" primer of text and music for anyone — from beginner to advanced player — who would like to play jazz on the clarinet. This important new book features:
An introduction to the special harmonies and rhythms of jazz music.


72 exercises in all keys and many rhythms, to illustrate many of the special techniques of jazz.


Three Blues Trios, three Twelve-Tone Trios and sixteen jazz duets, none of which have been previously published. You will enjoy performing these duets and trios with other musicians.


Solos on many jazz standards, including Giant Steps, Cherokee, What Is This Thing Called Love?, I Got Rhythm, Half Nelson, Someday My Prince Will Come, All the Things You Are and Green Dolphin Street


Chapters on many of the advanced techniques pioneered by Bill Smith, including amplification of the clarinet, atonal jazz, multiphonics, muted notes, etc.


An extensive Jazz Clarinet Discography prepared by Editor Malcolm S. Harris.


The book is 136 pages in length, including 105 pages of music. The text and music typography are set to the highest standards. The book is spiral bound for convenient use on a music stand.