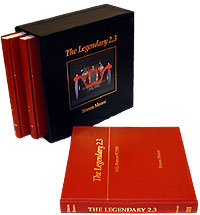 The Legendary 2.3
By Simon Moore

Edited and designed by
Malcolm S. Harris
ISBN No. for three-volume set: 0-9617266-0-3

$295 postpaid in USA and Canada
$345 postpaid other countries
How to Order
Simon Moore's first book, The Immortal 2.9, was published by Parkside in 1986 and met with instant critical acclaim. It won the Nicholas-Joseph Cugnot Award, presented by the Society of Automotive Historians, as the Best Automotive Book of 1986. The book broke new ground for an automotive publication by focussing upon the histories of the individual Alfa Romeo 8C2900 cars of the late 1930s. Several commentators have included The Immortal 2.9 on their lists of the best automotive books of all time. A new edition of The Immortal 2.9 is being released in November, 2008.



Following in the tradition of The Immortal 2.9 — Simon's second book, The Legendary 2.3 — a long-awaited history of the remarkable 8C2300 Alfa Romeo sports and racing cars produced from 1931 to 1934. The Legendary 2.3 chronicles the colorful individual histories of almost all of the 188 cars produced in the 8C2300 series.


Alfa's brilliant designer,
Vittorio Jano,
creator of the 8C2300
The Legendary 2.3 has something for all car enthusiasts: racing fans, admirers of coachwork design, history buffs. The book will also be of special interest to Ferrari enthusiasts, since it recounts the transition of Scuderia Ferrari from a small team sponsored by a few wealthy amateur drivers until it became the de facto Alfa Romeo works racing team. The racing history of each of the Scuderia Ferrari 8C2300 cars is reviewed in detail.
Because the 8C2300 has become such an icon among auto enthusiasts, its story commanded the highest possible production standards. We are confident that we have produced a book worthy of the 8C2300—one which will become a benchmark for future automotive books. We believe that The Legendary 2.3 is the most comprehensive and detailed book ever published about a particular model of automobile.
Here are the lavish specifications of this important work:
962 pages in three volumes, in a sturdy slipcase
Large format (26 x 27 cm) on heavy matte paper
Bonded leather binding and slipcase cover
1,289 black and white photographs in rich duotone
73 full-color photographs
All photographs are spot-varnished
Each chapter of The Legendary 2.3 recounts the exciting "lifetime" of a particular car, where known, from the factory to the present day. Since most of these cars began their lives as sports racing cars, their early racing exploits are prominently featured.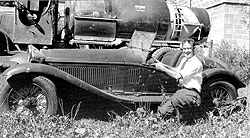 These stories are profusely illustrated with hundreds of photographs contributed by enthusiasts and professional photographers from all over the world. We believe that at least three quarters of these photographs have never been previously published. The photos capture the 8C cars at many junctures during their exciting lives: as front-line race cars in the early 1930s, as forgotten relics after the War, as restored "classics" and as today's ultimate historic racing car. Several photos document the intriguing "as found" condition of newly-unearthed 8Cs before their restorations were begun. Others document important coachwork which has subsequently been removed. Many of the cars have been re-bodied over the years, and Simon has included photographs, wherever possible, of 1930s/1940s rebodies, as well as the original coachwork.
The book also contains a chapter on the technical specifications of the 8C2300, including exploded parts diagrams from the original factory parts catalogue. Another chapter, co-authored by Simon's friend Julian Majzub, reviews the fascinating history of the Triumph Dolomite, which was a thinly-veiled copy of the 8C2300. In fact, this chapter is the most comprehensive review of the Dolomite found anywhere! In a chapter entitled "Remaining Mysteries", Simon recounts rumors and anecdotal information about many missing 8C cars, including photos of many which cannot be identified by chassis number. If you want to find a missing 8C, this is the place to start!
The Legendary 2.3 contains an extensive Bibliography, a 21-page index and five detailed Appendices:
Here are some of the rave reviews of The Legendary 2.3 from the automotive press:
From David Woodhouse, writing in Vintage Motorsport (USA).
"Simon Moore's first book, The Immortal 2.9, was very well received and Alfa enthusiasts have waited nearly 15 years for the promised sequel covering the earlier 2300 series cars . …the final product is, in my opinion, the most impressive single automobile publication to date. Three heavyweight volumes, beautifully bound in leather and slipcased, with wonderfully crisp photo reproduction, make up the set and the normal superlatives are simply inadequate to describe the visual and tactile impression . …This is one book that will be treasured for years after the initial cost has been forgotten. Give it to an Alfa Romeo fan and make a friend for life."

From Mick Walsh, writing in Classic & Sports Car (UK)
"...this masterwork by pre-war Alfa expert Simon Moore is no glossy exercise in vanity publishing. His dedicated research to unearth the true histories of all 188 Alfa Romeo 802300 chassis follows the style of his award-winning The Immortal 2.9. ...This is an important historical record … As well as digging into the convoluted lives of these prized Jano-designed thoroughbreds, Moore has uncovered a wealth of historic photos - an amazing 1300 reproduced here in superb duotone . …Like The Immortal 2.9, this is sure to become a collector's item that you'll never want to sell."
From the late Pat Braden, writing in Sport Car Market (USA)
"The weight of this work, physically as well as conceptually, is astounding. Like his earlier effort on the 2.9, this book is as classic as the model itself. By comparison, everyone else who has ever published a word about Alfa is a mere scribbler, so monumental is Simon's accomplishment. The very nature of this book invites criticism ....Try as I might, I cannot fault this work. At $350,…The Legendary 2.9 is an absolute bargain, and an essential addition to any serious Alfa library."

From Gordon Cruikshank, writing in Motor Sport (UK)
"We used to use the word 'thorough' for learned books, but it's completely inadequate for these three volumes on one model, Alfa Romeo's delectable 8C2300, with every one of the chassis given its own detailed life story…. Moore has inspected many of the cars himself and has interviewed owners past and present, which adds life to a relentlessly detailed project, and cheerfully devotes whole pages to helpful advice on number plate research, chassis number stampings and diagrams from the works parts manuals…. to round out a book of magnificent scholarship and immense quality."

From Jonathan Stein, writing in Autoweek
"Author Simon Moore may call this book about Alfa Romeo's 8C2300 series The Legendary 2.3, but this magnificent book deserves legendary status in it own right…Standards in research, design, photo reproduction and printing have risen a great deal…and no pairing has taken those standards higher than author Moore and publisher/editor Malcolm Harris…Hundreds of people and thousands of hours obviously went into tracking down the history of every one of the 188 cars built. …For the time being, The Legendary 2.3 must rank as the finest new edition of automotive history, combining superlative research and magnificent photography as well as excellent and straightforward design in a superior package."
Bill Clark in Beaded Wheels (New Zealand)
"…to…true Alfa Romeo connisseurs and those who collect the very best of genuine motoring history, this must claim a place on your bookshelves."
David Seibert in Prancing Horse (the magazine of the Ferrari Club of America)
"…or you simply appreciate the ultimate example of automotive research and scholarship, you must buy this book. It's better than you could possibly imagine."
Greg Stewart in The Alfa Romeo Club of Canada Newsletter
"I have no doubt that The Legendary 2.3 will become a benchmark for future automotive books. It seems quite appropriate, given that the 8C2300s did the very same thing to the automotive industry!"
Jonathan Thompson in Road & Track
"Simon Moore has done it again. … Although I have studied Alfa Romeo for many years and have written magazine articles on the 8C/12C Grand Prix cars and the 8C2900B sports cars…, I am in awe of the depth to which Moore has dug in unearthing so much new material and solving so many nagging mysteries. In addition to every 8C2300 I ever thought I knew something about, there is page after page of complete surprises. Exotic variations are presented in rich detail: racing cars, open sports cars and closed Gran Turismo cars. This is an absolute model of research, writing and presentation by the author and Malcolm Harris, the editor/publisher."

The Legendary 2.3 has received two major awards from automotive history societies in 2000. The French Academie Bellecour awarded the book its top prize, the "Prix Bellecour", as the best automotive book of the year, the only time the Academie has given this award to a book not in the French language. Secondly, the US-based Society of Automotive Historians granted its Cugnot Award of Distinction "in recognition of particular merit in the field of automotive history in the English language during the year 2000."
The Legendary 2.3 is available by mail directly from Parkside Publications and is also available from selected specialty bookstores and book distributors throughout the world. Only 3,000 copies have been printed. Place your order now to be certain that you will receive a copy of what promises to become another collector's item.
How to Order