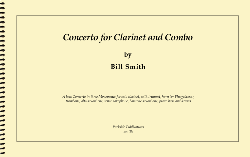 Concerto for
Clarinet and Combo
By Bill Smith

Edited and designed by
Malcolm S. Harris
$125 postpaid in USA and Canada
$135 postpaid other countries
How to Order

A Jazz Concerto in three movements for solo clarinet (or soprano saxophone), trumpet, trombone, french horn (or fluegelhom), alto saxophone, tenor saxophone, baritone saxophone, piano, bass and drums. A director's score and all individual parts are included, along with a CD of the original 1957 performance. Listen:
Concerto for Clarinet and Combo, Part 1: play mp3
Concerto for Clarinet and Combo, Part 2: play mp3
Concerto for Clarinet and Combo, Part 3: play mp3

Watch Mike McGinnis and ensemble perform the Concerto live on WNYC.
In 1956, clarinetist and composer Bill Smith wrote one of the most original musical works of the 1950's: the Concerto for Clarinet and Combo, a twenty-minute concerto in three movements, written in a swinging jazz style. The clarinet solo part contains both written lines for ensemble playing and extensive sections for improvisation, using standard jazz chord symbols. The Concerto is for intermediate to advanced musicians and is an ideal piece for university-level players or accomplished high school students.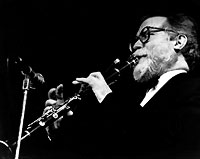 Bill's Performance Notes, which accompany the score, explain his intentions when he composed the Concerto:
First, I wanted to explore jazz counterpoint — to emphasize line in each of the instrumental parts. Second, I wanted to experiment with formal possibilities other than the normal 32-bar tune. Large-scale relationships, closely related to classic concerto form, were important to me. Finally, I wanted to emphasize variety in the treatment of the rhythm section — thinning out the texture as much as possible. And, finally, I wanted the Concerto to be a swinging piece of music that strongly reflected the jazz tradition!
Bill succeeded on all fronts! The Concerto was recorded in 1957 by Contemporary Records, with an all-star ensemble of Los Angeles studio and jazz musicians, featuring Bill, Shelly Manne, Bill Holman, Monty Budwig and many other now-legendary stars of the West Coast Jazz Movement. The Concerto and the recording met with great critical acclaim, but the score was never published and the piece was never recorded again. Bill's hand-written score and the individual parts were put away and gathered dust for more than 40 years.

Parkside is proud to announce that this long-lost masterwork has been saved and that the full Concerto has now been professionally notated in the Petrucci music font, using Finale music software. We are offering a package which includes (1) a complete director's score, (2) individual parts for all ten instruments in the ensemble and (3) a compact disc of the original 1957 recording, recently remastered and reissued by Contemporary Records (Contemporary No. OJCCD-1910-2). The solo part was originally written for clarinet but could also be played on soprano saxophone. The original score included a french horn. Recognizing that not all jazz-oriented ensembles will have a french horn player, we have included, in addition to the french horn part, a transposed B-flat part for fluegelhom, as an alternate to the french horn.
The price for the complete package, postpaid, is $125 in the USA and Canada, and $135 other countries.

Watch clarinetist Mike McGinnis performing Bill Smith's Concerto for Clarinet and Combo
on WNYC's Spinning On Air:

Part 1: https://www.youtube.com/watch?v=woZnMYfekgY


Part 2: https://www.youtube.com/watch?v=XfvR4UFUw24


Part 3: https://www.youtube.com/watch?v=Gpl5LUS0tF4


How to Order