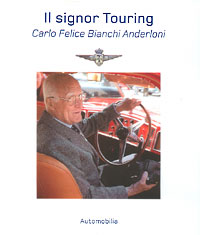 Il signor Touring:
Carlo Felice Bianchi Anderloni
by Giacomo Tavoletti

$85 postpaid in USA and Canada
$130 postpaid other countries
How to Order
We are pleased to announce that Parkside Publications has been appointed the sole North American distributor for Il signor Touring: Carlo Felice Bianchi Anderloni. This anxiously-awaited book recounts the life and accomplishments of a great gentleman and one of the leaders in the world of automotive design, the late Carlo Felice Bianchi Anderloni, director of Carrozzeria Touring, the famous Italian auto design and coachbuilding firm.
Touring was founded in Milano by Carlo's father, Feliche Bianchi Anderloni in 1926. During the 1930s, Touring was unquestionably Italy's leading coachbuilder, producing may trendsetting designs and pioneering the "Superleggera" construction technique that shaped the future of automotive design. Carlo assumed control of the company after the War and followed in his father's footsteps to continue the company's great traditions into the 1960s. Touring's designs have stood the test of time because they graciously combined flair and good taste with excellent workmanship to produce some of the most exciting automobiles ever made. Touring-bodied cars now rank among the world's most coveted collector automobiles.

The book is beautifully produced in large format (10 x 12 inches) by the noted Italian publisher Automobilia, with 256 pages and 358 photographs in duotone and full color. The text is bilingual in Italian and English, side-by-side. The photos include virtually ever example of coachwork produced by Touring over its rich history from 1926 to 1966, including many of the original coachbuilder's studio drawings, four of which are reproduced in large fold-out foglios. Also included are tables which show production history and ranges of body numbers, including details on each of the Touring-bodied Ferraris built from 1948 to 1952. All of the marques serviced by Touring are featured, including Alfa Romeo, Ferrari, Aston Martin, Lancia, Pegaso, Maserati, BMW and FIAT.
Il signor Touring will be a treasured addition to any automotive library. Due to a special purchase, we are able to offer the book in the USA and Canada for $85 and in other countries for $130. These prices include packaging and shipping via media mail to any address in North America. Only 500 copies have been allocated for the North American market. Order your copy soon to insure availability.